Are you looking for a cool retro,
modern Christmas card
for the holiday season? Then check out our
Retro Modern Holiday Ornaments Christmas card
(shown below) and try before you buy with 5 FREE when you use coupon code:
HOLIDAYCARDZ
at checkout
! Please Note: Buyer is responsible for shipping, handling and applicable taxes. Free offer only available on this design from The Spotted Olive™.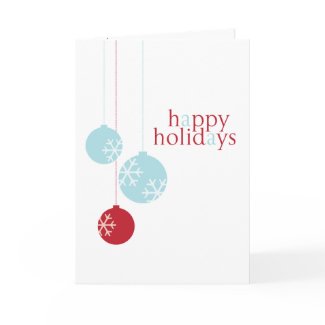 Interested in other
modern Christmas card designs
? Stop by
The Spotted Olive
™ today and take a peek at our fabulous
holiday card selection
!
100% of card net sale price (excluding shipping and taxes) is deducted when one, two, three, four, or five qualifying cards are purchased from http://www.zazzle.com/free+cards and the coupon code HOLIDAYCARDZ is applied at checkout. Offer does not apply to create your own cards. Buyer is responsible for shipping and handling and sales tax charges. Offer is valid from September 27, 2010 through October 16, 2010 at 11:59pm PT. Offer does not apply to past purchases and may not be combined with any other Zazzle promotional or volume discount offers. If a volume discount applies to your order, you will receive either the discount set forth in this offer or the standard volume discount, whichever is greater. Offer valid on Zazzle.com only.