Today is Earth Day and the perfect time to start making those little changes in your lifestyle to be more environmentally friendly. In addition to using eco-friendly light bulbs, incorporating green technology into our remodeling projects, turning off lights and the televisions when not in use, recycling newspapers, cans, plastic, glass cardboard, magazines, electronics, cell phones and more, there are many small changes we have made in our lives to be more friendly to the planet. Below is a list of five simple things that I have incorporated into my life and that you too can easily incorporate into your daily lives too in order to go green and help save the Earth!
[1]
Turn off the water when you are brushing your teeth. Doing this will save almost 9 gallons of water each time your brush your teeth!
[2]
Bring your own
reusable bags
whenever you go shopping. Eliminating plastic bags, will save over 14 million trees and cut the use of oil by 12 million barrels!
TIP:
Keep your reusable bags in the car, that way you will always have them when you go shopping. Another great idea is to buy a larger, really cute bag to hold all of your other reusable bags. That way you've got them all conveniently together.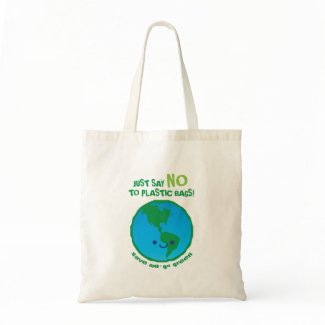 [3]
Ditch the bottled water and fill your own bottle with filtered tap water. Each year Americans use over 50 BILLION plastic water bottles. The recycling rate for plastic in the United States is only about 23%. This means that over 38 BILLION plastic water bottles are wasted and end up in landfills each year and can take up to 1,000 years to biodegrade. And remember, bottled water isn't necessarily cleaner or healthier for you so be responsible.

[4]
Check to see that your car tires are properly inflated. Proper air pressure results in better gas mileage and less fuel consumption results in less carbon dioxide being emitted into the atmosphere.
[5]
Purchase
organic
-cotton t-shirts. Next to corn, cotton is the second-most chemically sprayed crop in America.


useLESS Organic T-Shirt
by
The Spotted Olive
The all-organic cotton classic t-shirt. 100% organic fine jersey cotton, combed for comfort. Flattering, stylish fit on virtually any body type. Made in the USA by American Apparel.
Do your part and make every day Earth Day. Happy Earth Day!
[BONUS TIP]
Unplug your chargers for cell phones and other electronic devices when not in use. Even if they are not connected to a device, they still draw electricity. And every little bit helps!
The Spotted Olive
™ is your online source for funky, cute & cool designs on
hip business cards
,
trendy paper goods
and unique gifts.